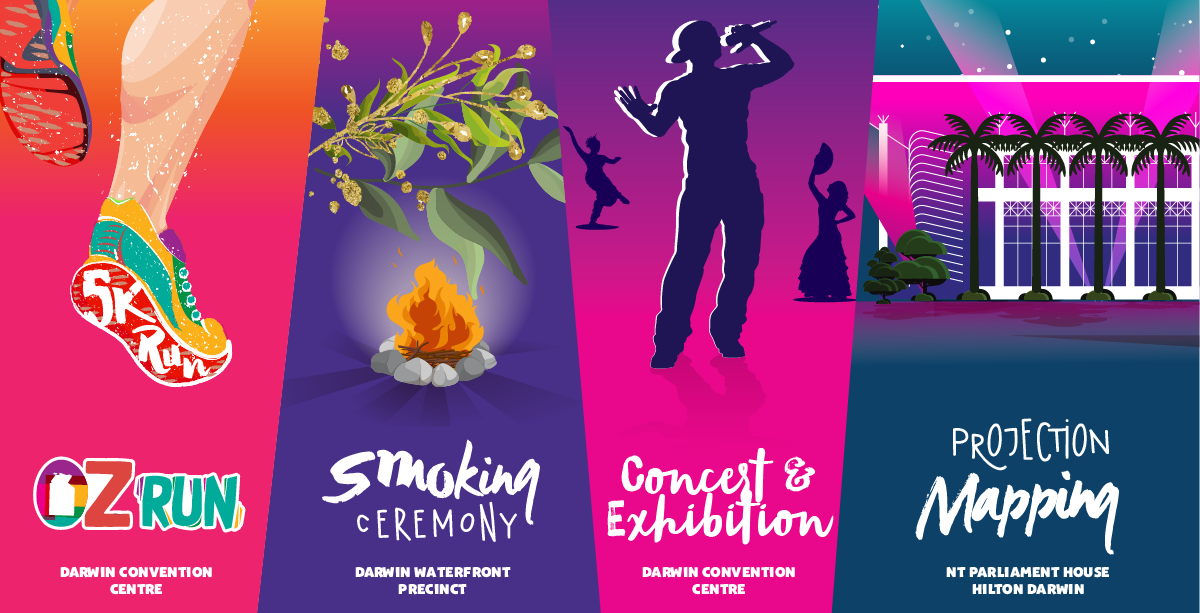 Local Favourites
Stellar cultural line up for Australia Day
A massive Australia Day event will be held at the Darwin Waterfront and the Darwin Convention Centre [DCC]. This spectacular cultural event will be the biggest to be staged in Darwin's history and will bring to life the national narrative focused on Australia's rich cultural diversity this January 26th.
"Reflect, Respect, Celebrate" are the key words for Australia Day 2022 and words the NT community is sure to embrace as they step into the Darwin Convention Centre to find a totally transformed space full of life, colour and culture.
Depicting the Northern Territory's vibrant multi-cultural community, the indoor festival will feature dazzling dance performances, a stellar music concert with award winning artists, visual arts exhibitions, entertainment, kids activities, storytelling, food stalls and mesmerising Projections.
Australia Day 2022 is a FREE event offering a rich cultural program packed full of entertainment and activities for all the family to enjoy.
"Australia Day 2022 is about encouraging all communities across the Northern Territory to embrace the national narrative of "Reflect, Respect, Celebrate – we are all a part of the story" and work towards creating a more inclusive Australia Day for all Territorians." says Nigel Browne – Chair of the Australia Day Council NT.
Long regarded as one of the country's most multi-cultural communities, Darwin's Australia Day event kicks off at the Darwin Waterfront with the annual 7AM OzRun preceded by a warm up ZUMBA session at 6.30am. OZ RUN is one of the Territory's largest running events attracting over 4,000 people who participate in a 2.5km or 5km fun run/walk. For those looking for a later start to the morning, the 8.30am Smoking Ceremony is an opportunity to participate in an ancient cultural practice said to cleanse the soul and raise the spirits.
From there the action amps up at the DCC with an incredible program of entertainment. Starting with a Welcome To Country, OzFusion will then take to the dance ground and dance up a storm, setting the mood for a variety of multi-cultural performances including the stunning Belyuen Kenbi Dancers.
What is sure to be deemed a highly coveted music line up of this country's finest First Nations talent is set to rock the stage and unite the crowd in one big day celebrating cultural greatness.  The program will be headlined by ARIA Award winning act Electric Fields. This band is on fire with the newly released single "Gold Energy" and has just signed a record deal with Warner Music. Joining them is Australia's fastest rising emerging artists the Yolŋu dream team that is King Stingray, recently crowned Triple J Unearthed Artist of the Year and making waves as pioneers of a new sort of surf-rock mixing ancient Yolŋu manikay (songs) and biḻma (clapsticks) with hot electric guitars and searing lyrics.
The afternoon will be MCed by local legend and 2019 Northern Territory Senior Australian of the Year Charlie King and also features local legends Dave Garnham and the Reasons to Live  and The Youth Mill presents a medley of Australian songs with local talents: Edwin Fejo, Jordan Ravi, Alviston Wunungmurra and Emma Rowe accompanied by a 10 piece orchestra.
In conclusion to this Australia Day celebration a bespoke projection installation designed by Shane Eecen from Northern Lights NT in collaboration with award winning artist Paul Arnold will transform both Parliament House and The Hilton in Darwin's CBD as a canvas to the beauty and wonders that NT has to showcase. Each installation will be displayed as a 10 minute loop starting at 7pm on Wednesday the 26th of January and finishing at approximately 9.30pm.
 
Australia Day 2022 will be a joyous day for everyone to come together and celebrate.
This is a FREE EVENT held at The Darwin Waterfront and Darwin Convention Centre.
For the full program and please visit https://nt.australiaday.org.au/
This project is funded by the Australia Day Council