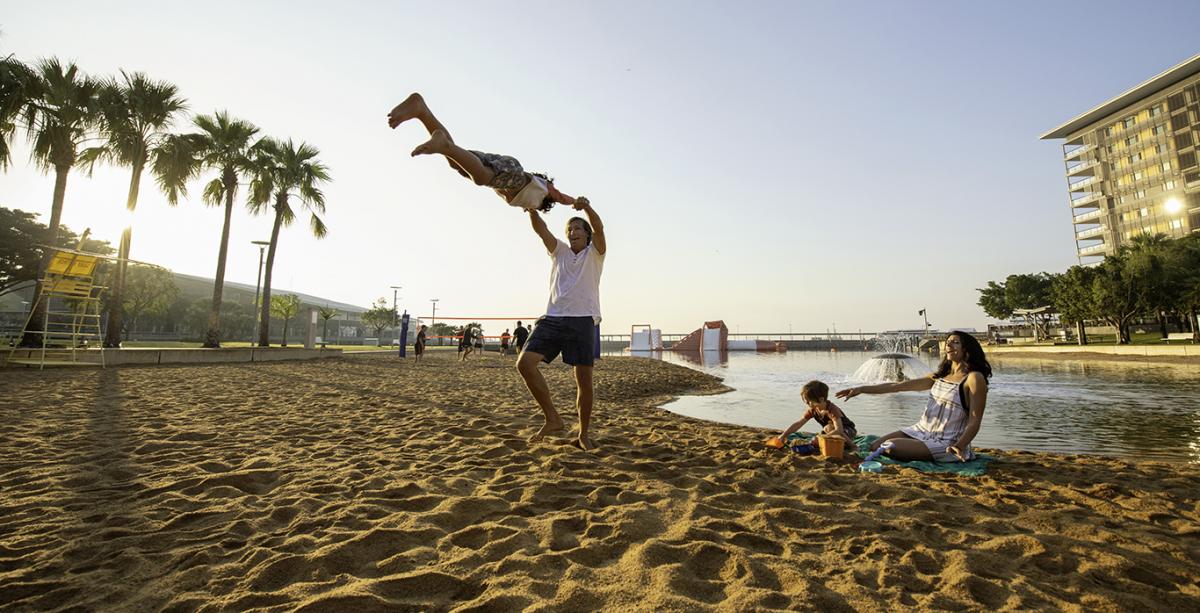 Local Favourites
Kid friendly dining
Planning a meal out with the family? Let us take the stress out of finding somewhere that suits. These kid-friendly venues suit all tastes and appetites with plenty to keep the youngsters entertained. From outdoor play areas, colouring in books, cosy booths for the whole family and all the high chairs you'll ever need, here's our list of top restaurants your family will love.
The Precinct
Located on Darwin Waterfront, boasting 46 taps of craft beers and cider, quality wines and delicious modern pub food, The Precinct is a great option for the whole family. Locally caught seafood, NT buffalo, smoked and braised meats, homemade pizzas and pasta, the menu is extensive and appetising. The Precinct also offers a kids menu, kids pack and the terrace overlooks Darwin's fantastic wave pool.
La Beach
A fabulous place in Cullen Bay to grab fish and chips with the family. We recommend dining early evening as you can relax on their deck or the lawn with the kids and enjoy one of Darwin's magnificent sunsets.
Alfonsino's
Situated on Mitchell Street, Alfonsino's Cafe serves delicious, authentic Neapolitan style pizza, antipasti and desserts. Often praised as the best pizza in Darwin, Alfonsino's also delights the kids with their bunny shaped pizzas.
Salvatores
Simple, fresh, highly satisfying meals can be found at child friendly cafe Salvatores. Well known in Darwin for great coffee, delicious pizzas, pastas, sandwiches and salads. Their children's menu, high chairs and child friendly staff make Salvatores an excellent choice for a family meal.
Kalidonis Taverna
A wonderful traditional Greek restaurant offering fresh and delicious cuisine for the whole family. From seafood dishes like Fish and Chips or the classic Karafaki to meat lovers meals including Mix Grill, Souvlaki, Yiros, Kalidonis offers great food for groups at incredible prices. Enjoy indoor or alfresco dining with lovely Greek music in a warm and friendly environment.
Hot Tamale
An excellent mexican restaurant located at the beautiful Darwin Waterfront. Hot Tamale's cuisine is influenced by fresh, flavourful Latin and American fare. The menu is fantastic with all the classic mexican favourites you could wish for including quesadilla, burritos, burrito bowls, nachos and much more. From 4-6 it's $5 taco happy hour, a great option for the family.