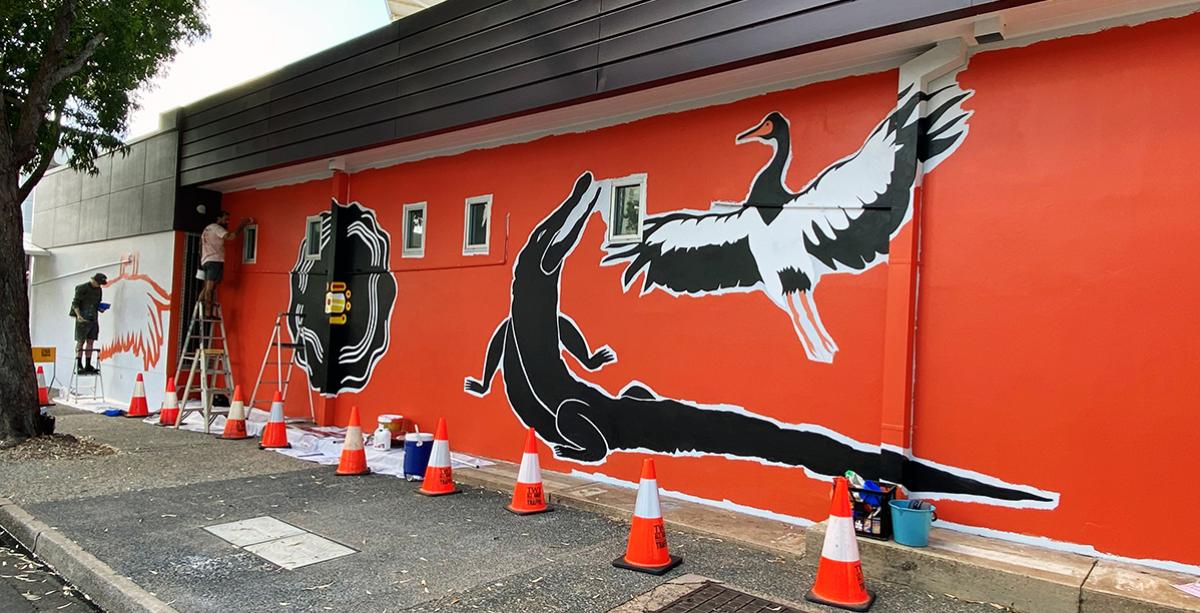 Local Favourites
Larrakia welcome for Darwin
Gunimidjina Gwalwa Daraniki (Saltwater Country) will be a dynamic Indigenous mural holding deep cultural significance for local Traditional Owners. The impressive 30 metre visual panorama will reach the full length of ABC Darwin's Bennett Street wall (at the intersection of Cavanagh Street).
Senior Larrakia artist Denise Quall has been engaged to produce the street art piece that will provide a vibrant Larrakia welcome for visitors to Darwin and for the local population to enjoy.
Ngagan-Dji Nagandji – Bah (Brahminy Kite) will feature at the beginning of the mural. Its broad wingspan will stretch wide across the first section and welcome people to Larrakia Country, Badjigirri Kulumbirigin Country.
Denise Quall, Senior Larrakia artist said "The inspiration for this mural comes from my Mother's Country and our family totems. Whenever I see Ngagan-Dji Nagandji – Bah flying overhead I feel an instant calm – a good feeling. Ngagan-Dji Nagandji – Bah watches over the Country, healing and protecting, ensuring spiritual connection is maintained."
Gunimidjina Gwalwa Daraniki mural is multi-layered and contains deep spiritual connection to the land and Quall's Mother's Country. The colours of the mural represent the natural ochres of Saltwater Country where she grew up and still lives today. During the design development phase Quall said "I spent a lot of time sketching ideas down at the beach, the ochres in the rocks and cliffs, that is my library".
Artback NT received a grant through Activate Darwin to project manage a street art piece that would provide a vibrant Larrakia Welcome and deliver a creative response to improve public spaces and deliver a more walkable city.
"Our vision was to enable and facilitate a project to create a strong sense of local identity, promotion and pride at an entry point to Darwin. We wanted to highlight the diversity of Larrakia experiences by creating awareness and making prominent the unique culture and language of the local people. This mural will provide audiences with a sophisticated contemporary representation of Larrakia perspectives" said Louise Partos, Executive Officer, Artback NT.
Denise Quall is a Saltwater person from the Dangalaba Clan (Crocodile Clan). "Who would have thought, I grew up on the hill behind here, and I've seen all the change – dirt roads, old cars. We used to walk up to the centre of town with a saucepan to collect noodle soup from one of the Chinese shops on Cavanagh Street" said Quall.
"This mural is a part of me, part of my family and gives meaning. How to survive on your land, which animals are important and how the seasons signify different time for ceremonies. The spirit world and the modern world" said Quall.
Partnering with Artback NT on the Gunimidjina Gwalwa Daraniki mural are Activate Darwin, Northern Territory Government, Larrakia Nation, ABC Darwin and David Collins, Darwin Street Art Festival.